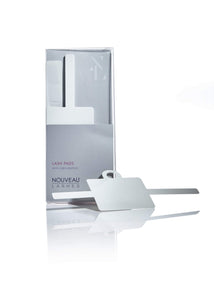 Works with the Nouveau Lash Band
Adjustable
Fits Shallow Micro Cups
10 pads and 1 curve adaptor per pack
The Lash Pad has been designed to work exclusively with the LVL Lash Lifting System and fit effortlessly within the fabric of your LVL Headband. The Lash Pad can be used curved or flat, depending on technician preference when working with lash extensions. The Lash Pad also features a housing designed to fit Nouveau Lashes Shallow Micro Cups, meaning that adhesive can be held safely in place without wastage.
Each pack contains 10 x Lash Pads and 1 x Curve Adaptor.