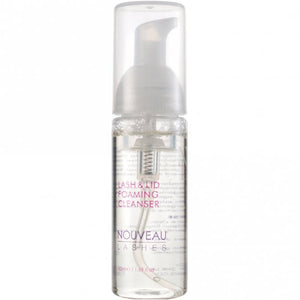 Nouveau Lashes Lash & Lid Cleanser Set contains two complementary products designed to encourage effective lash and eyelid hygiene by removing potential irritants. The Lash & Lid Cleansing Brush features varied bristle lengths to effectively clean the lash and lid area whilst respecting lash extension bonds.
Formulated with key anti-ageing ingredients, Lash & Lid Foaming Cleanser also provides intense hydration and moisturisation, allowing the skin to better defend itself against environmental aggressors and other ageing effects. Suitable for use on both lash extensions & natural lashes. The hypoallergenic formulation is suitable for use on even the most sensitive eyes. Cruelty-free & vegan-friendly.
Directions of use:
Using the brush, gently work around the closed eye area.