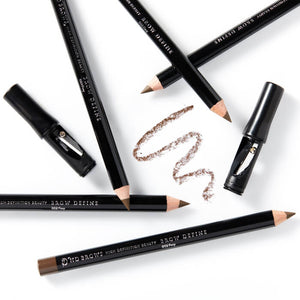 Medium-firm consistency
Blendable
Built-in sharpener
Long-lasting colour
Defines and fills in gaps
Antioxidant properties
Hypoallergenic formula
6 tints to choose from
This long-lasting, medium-firm brow pencil is enriched with specially selected waxes for optimum texture and is ideal to fill, define and shape the eyebrows to perfection.


The built-in sharpener means you can always have a precise tip to perfectly mimic the appearance of brow hairs to fill in gaps and sparse areas of the brows. The formula is also enhanced with Vitamins C and E, adding antioxidant properties.

To Use:
This pencil is soft in texture with a powdery finish. Use the sharpener in the lid to maintain a fine, pointed tip, then lightly fill in gaps through the brows, mimicking hair strokes and feathering towards the bulb. You can also shade in larger areas more softly by using the pencil on its side.
COLOUR
Bombshell, Foxy, Raven, Siren, Smoke, Vamp