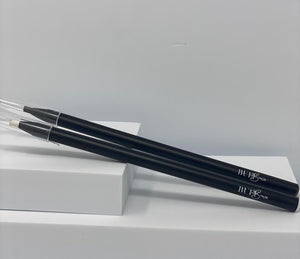 Designed with precision and care, the Brow Designer is the essential tool for all brow enthusiasts. Once you start using the Brow Designer, your brow game will change forever.
What Can the Brow Designer Be Used For?

This innovative pencil is the most effective instrument in mapping the brow prior to any SPMU or brow maintenance procedure.

The white pencil has been specially designed to stand out against the skin for a prolonged amount of time, allowing all artists to follow a visible outline when needling, waxing, or threading.

The brown pencil is one of our most loved products, used by brow artists all around the world to create the most natural-looking hairstrokes. One of our cleverest tools, the brown Brow Designer can create a bolder, fuller brow in just a few minutes.

How to Sharpen Your Pencil:

To experience the full potential of our amazing Brow Designer, you must ensure that it always has the finest edge. Use the 'Looking Sharp' tool to carve your pencil into a sharp tip; this will help you to create a crisp outline with minimal effort.


Top Tips:

The brown Brow Designer has a protective film over the core to ensure that it does not smudge. Prior to using the pencil for the first time, gently wipe over the core with a wet wipe. This will successfully remove the film and provide the perfect finish.